Mark Sampson has broken his public silence to insist his "conscience is clear" following allegations of bullying, discrimination and racism made against the England Women manager by striker Eni Aluko.
Sampson was cleared by an internal Football Association review of Aluko's claims, and by an independent investigation. But shadow sports minister Dr Rosena Allin-Khan, along with anti-racism group Kick It Out and the Professional Footballers' Association, have argued there should be a new examination of the evidence.
And as the issue continues to hang over the FA, Sampson told Press Association Sport he intends to stay in charge of the team that lost to Holland in the Euro 2017 semi-finals.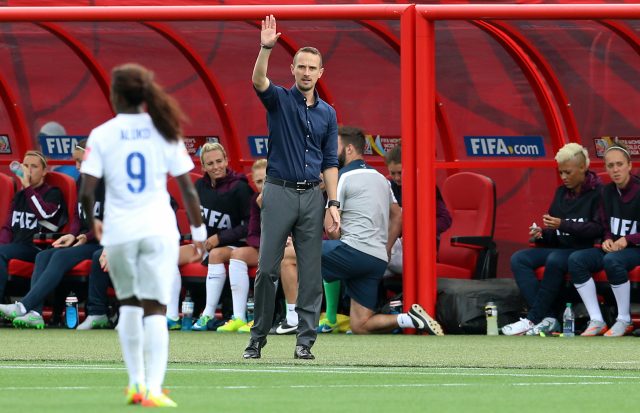 Sampson also said he would be willing to meet with Aluko to discuss the wide range of complaints raised by the 102-cap striker, who has been absent from the England squad since submitting a dossier to the FA in May 2016.
Speaking at Wembley Stadium, Sampson said: "Since the allegations have come to public knowledge I've had universal support from the players and the staff, who have confirmed they are behind me and want to continue working in the way we have been working, to do our best to achieve more success."
He was speaking to the media for the first time since details of the case emerged last month. England's manager, appointed in December 2013 and contracted to 2019, was cleared by the independent investigation led by barrister Katharine Newton.
Sampson has denied wrongdoing on all counts from day one, and said: "Over the course of the last six months I've answered all the questions that have been asked of me, and done everything I can to make sure I've told the truth.
"These allegations were investigated thoroughly and now we're in a position where I feel strongly that we need to move on and continue to work hard to bring more success to this team."
Asked if he would be prepared to meet Aluko, Sampson said: "I've made it very clear, from the moment I spoke with Eni face to face (to say) that she would be left out of the squad, that at any point I'd be available to meet again.
"As with any England player, I'm open to a phone call or a sit-down conversation to discuss whatever they feel they need to discuss to help us move forward as a team."
The 34-year-old Welshman added: "I'm sat here again denying the accusations and my conscience is clear. It's a very difficult position and situation to have been through both professionally and emotionally but I've stayed professional and got on with my job.
"Over the course of these investigations I've prepared a team and coached a team at a major championship and I've been cleared of any wrongdoing. There has been no wrongdoing on my part."
Aluko accepted an £80,000 settlement after the investigations concluded, which the FA said it made "to avoid disruption to the squad's preparations" for Euro 2017. She also continues to have an FA central contract, usually the preserve of regular England players, which brings her a further substantial five-figure sum.
When asked about the first of those payments, which has been interpreted by some as 'hush money', Sampson said: "The decision was out of my control."
The FA has denied the sum was paid to prevent disclosure.