Richard Scudamore has vowed to watch more of Bristol City after announcing his intention to stand down as the Premier League's executive chairman at the end of this year.
The English top flight is looking for its first new boss in almost two decades after the 58-year-old's shock decision on Thursday.
Scudamore, a Robins fan, has run the league since November 1999, having joined after a two-year stint as chief executive at the Football League.
During his time in charge, the league has enjoyed enormous financial growth, booming popularity abroad and arguably become the nation's favourite soap opera.
Scudamore, who will speak to the media on Friday, said in a statement: "It's an absolute privilege to have been allowed to enjoy this role for so long, it is too much fun to be called a job.
"Football is an intoxicating environment and therefore difficult to give up being so involved, but my passion for what football means to so many and the positive impact it can make will never diminish.
"Whilst I have no plans to retire, whatever I do next, I will carve out more time to support (my family) in pursuit of their own passions … and to see more of Bristol City."
He then thanked the top flight's past and present clubs and his Premier League colleagues for their support, and singled out Sky for being the league's key broadcast partner since 1992 – their relationship has been symbiotic, with both parties benefiting enormously.
The news was announced after a dramatic day at the league's annual summer meeting.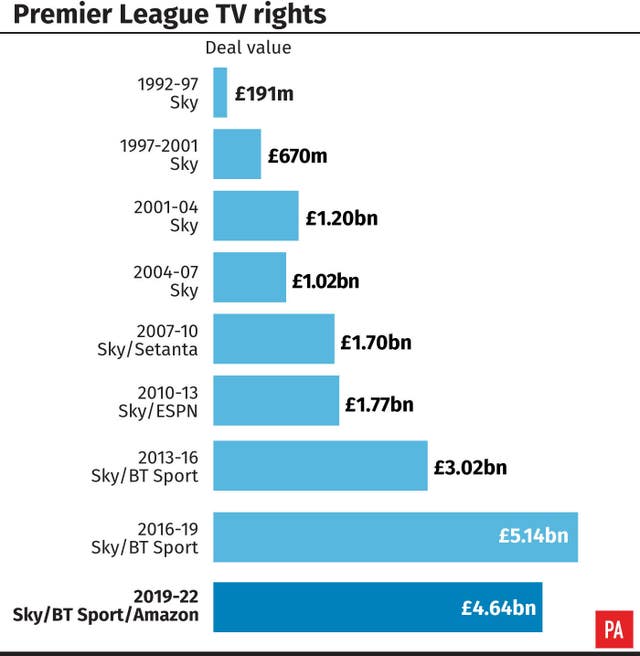 Amazon and BT bought the two remaining packages of domestic Premier League rights, with the online giant able to stream two full rounds of top-tier games a season from 2019/20.
It was also confirmed that the 'big six' clubs have won their fight to take a bigger share of the top tier's booming international broadcasting revenue.
From 2019-20, the start of the next three-year rights cycle, any increase in the current international rights package will be distributed according to league position.