England goalkeeper Karen Bardsley has been ruled out for the remainder of Women's Euro 2017 by a broken leg.
The Football Association has confirmed the Manchester City player suffered a fractured fibula during Sunday's quarter-final win over France.
It had been hoped Bardsley would still be able to feature in the tournament but the full extent of the injury has now become clear following medical assessment.
The news is a blow ahead of Thursday's semi-final against host nation Holland but Bardsley had already been rated highly doubtful for the match in Enschede. Liverpool's Siobhan Chamberlain, who played the closing moments against France and started the group clash with Portugal, is set to take over.
It means manager Mark Sampson will be forced into at least two changes with midfielder Jill Scott also ruled out through suspension.
Sampson nevertheless is convinced his side are prepared for anything – including penalties – having made impressive progress through the tournament.
Sampson told BBC Radio Five Live: "From our point of view you want to get the job done in 90 minutes. If not 90, 120.
"But the players have prepared for every scenario. They're very clear on their penalty process and they've done what they need to do to feel very confident should that moment come.
"This team feel like we're ready for anything that can be thrown at us and we can find a way to get the result we want. If that is penalties, so be it. Whatever it takes to get in this final we're willing to get it done. We have worked hard to make sure we're going to be at our best when that moment comes."
England have made impressive progress through the tournament, scoring 11 goals in their four games so far and conceding just one.
Confidence is high in the camp following Sunday's quarter-final defeat of France and there has been a positive feeling around the campaign.
Sampson said: "The really cool thing is that people have been talking about this England team as potential winners. We're very proud of the fact that some of the English public believe this team can go on and win a major championship.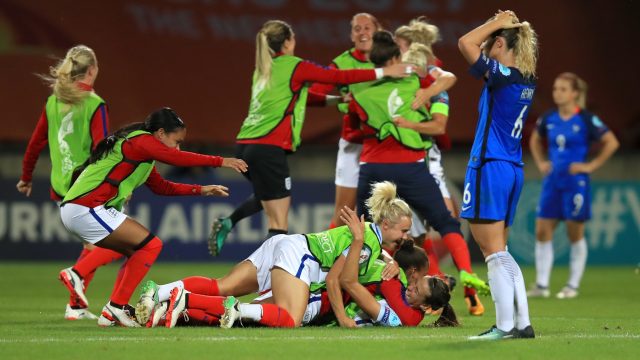 "It has probably been a long time since there has been a genuine belief that an England team can go on and win a major championship. So we take immense pride from that and a huge sense of confidence."
Holland have also looked strong, winning all three of their group games before seeing off Sweden to reach the last four.
Sampson said: "We're excited to put all our hard work into action over the next couple of days and get ready for what is going to be a massive game for us on Thursday night."
The match is a repeat of the 2009 semi-final, which was won by England after extra time.