England boss Mark Sampson is not too proud to admit it can be a stretch to keep pace with his "truly inspirational" Lionesses.
The thought of how he should drive captain Steph Houghton and co to the next level crosses the mind of the 34-year-old Welshman as he wakes each day.
After three years and three months at the helm, the successor to Hope Powell is enjoying life in a woman's world.
A former manager of Women's Super League side Bristol Academy, Sampson led England to third place at the 2015 World Cup, and while not everything has gone England's way since, they head to Euro 2017 this summer with designs on returning with the trophy.
Sampson said: "I'm very honoured to be in the position I'm in with England, where I get to work with some truly inspirational women.
"To work with the likes of Steph Houghton, our captain, and Casey Stoney, Laura Bassett, Jordan Nobbs, to name but a few, is something that makes you think when you get out of bed every day, 'Wow, I've really got to go some today because I'm responsible for helping these guys be the best they can be'. It's an honour to work with them, it really is.
"I'm fortunate and proud enough to be a father and have a young daughter, and it's great for me to say to my young daughter Amelie that you can follow in their footsteps and you wouldn't go far wrong, in whatever profession you want to go into. They're humble, they're hard-working and they're great people as well as fantastic sportspeople."
Once a coach at Premier League side Swansea's academy, Sampson is now one of the most prominent and vocal supporters of women's sport, from the grassroots up.
Sampson feels a kinship with International Women's Day, believing there is plenty to celebrate but still opportunities for empowerment.
He said: "I'm in a very privileged position as a patron for Women In Sport, who support so well any woman or young girl who wants to take part in sport and enjoy it."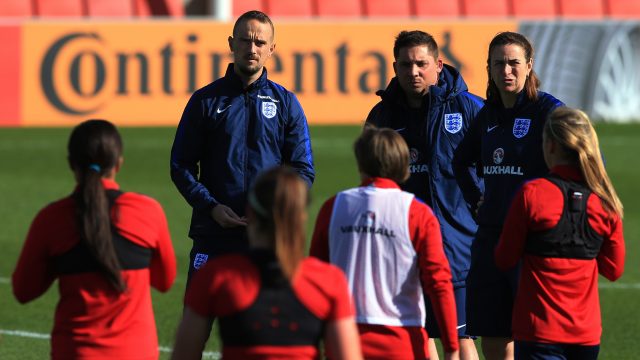 The interest in women's team sports is snowballing, but Sampson would like to see it gather still more pace.
"It hasn't changed enough though. It needs to change more," he told Press Association Sport. "You look at the success of the (gold-winning Great Britain) women's hockey team at the Olympics last summer, and the England girls ripping up the Six Nations at the moment, and it's definitely a growing area.
"We're always fighting for the extra coverage and the extra support to keep inspiring the next generation.
"It's really an amazing experience for me to go to my local field on a Saturday and not just see boys' football. I can turn to my left and see a girls' game going on, and when I was young that was never the case. It's hugely positive but we need to keep going now."