A second-half goal from Jakob Johansson earned Sweden a 1-0 victory over Italy that leaves the Azzurri on the brink of failing to reach the World Cup finals.
Italy must win at San Siro on Monday or they will miss the summer showpiece for the first time since 1958. Sweden are aiming for their first appearance since 2006.
Here, we look at five things we learned from the first leg in Stockholm.
Ventura out?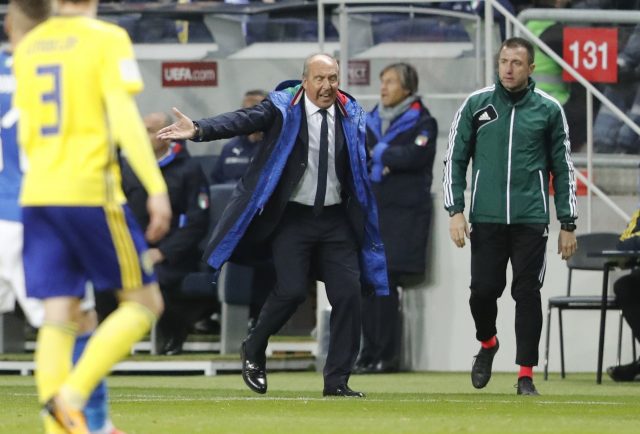 Whether or not Italy manage to overturn the deficit and make it to Russia, it looks like one man should be left behind. The calls for head coach Giampiero Ventura to be sacked or resign grew throughout a poor qualifying campaign and were evident at the Friends Arena. The veteran boss has been criticised for leaving stronger players out of squads and making poor substitutions, and Eder's late appearance as a replacement for Andrea Belotti drew more ire from travelling fans on Friday.
Italy are toothless
Despite their lack of match fitness, Ventura opted to take his most high-profile strikers – Torino's Belotti and Ciro Immobile of Lazio – to Sweden. But Belotti has been out of sorts in recent weeks and might perhaps have made way for Simone Zaza, currently on a hot streak with Valencia. Meanwhile, the system Ventura employs isolates Immobile, the author of 14 Serie A goals this season. Italy must find the back of the net in Milan – time is running out in which to fix a chronically faulty front-line.
Swedes escape despite dirty dealing
Both teams kicked off knowing discipline had to be a priority as a number of key players were on yellow cards and risked missing the second leg should they be booked in Solna. Somehow, despite spending much of the first half ruthlessly roughing up their Italian guests, Sweden picked up just one yellow, one for Marcus Berg that will mean nothing. In their frustration, Italy lost a main man for Monday as Paris St Germain playmaker Marco Verratti earned a needless booking to rule himself out.
Forsberg has more to give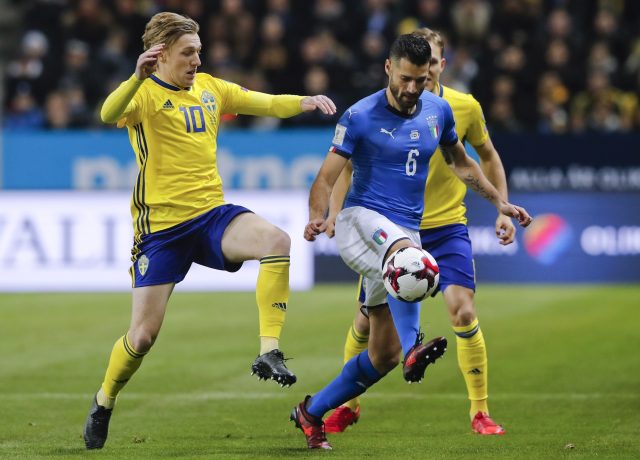 Before the game RB Leipzig winger Emil Forsberg was identified as Sweden's new danger-man in the post-Ibrahimovic era. Zlatan watched from the stands as Forsberg caused Italy no end of trouble by constantly cutting inside from the left to shoot, but his impact waned as the match wore on. Sweden boss Janne Andersson must ensure the Sundsvall star is used to his maximum potential at San Siro.
Helping hand of history
Head-to-head form across decades counts for very little but Italy can take some comfort from their impressive home record against the Swedes. The last time the northern nation visited Rome, in November 2009, they lost 1-0 in Cesena and Alessandro Del Piero rubber-stamped the same result in Palermo nine years earlier. Way back in September 1984, it was 1-0 again, this time at San Siro, where Italy will need to better that recast scoreline to be assured of a World Cup place in 90 minutes.