Lewis Hamilton has conceded he faces a tall order to prevent championship rival Sebastian Vettel from extending his lead in the Formula One title race after he qualified only fourth for the Russian Grand Prix.
Vettel, who leads Hamilton by seven points, will start from the front of the pack after he secured his first pole position in nearly two years with his final roll of the dice following a dramatic qualifying session here at the Sochi Autodrom.
The four-time champion heads Kimi Raikkonen in a Ferrari front-row lockout – their first in nearly a decade – as the famous Italian marque cemented their status as real challengers for both this year's drivers' and constructors' crowns.
The last time Vettel started from pole was in Singapore back in 2015, but his lightning-quick pace in Russia points towards a changing of the guard in a sport Hamilton's Mercedes team have dominated for the past three seasons. Indeed Vettel's one-lap triumph ended their impressive streak of 18 consecutive poles.
Hamilton was nearly six tenths of a second behind Vettel, and almost half-a-second down on his Mercedes team-mate Valtteri Bottas, who out-qualified him for a second race in succession. Bottas will line up in third.
Hamilton's sluggish display was greeted by crossed arms from Mercedes bosses Toto Wolff and Niki Lauda in the team's garage, with the latter puffing out his cheeks and shaking his head.
"It has just been one of those weekends," a downbeat Hamilton said. "Not every weekend goes perfectly smoothly. We worked towards improving the car, but generally it got worse and worse.
"We are fourth, it is very hard to overtake as it is, and Ferrari's race pace yesterday was better than mine. I was more than half-a-second off today, so there does not appear to be too many positives.
"Who knows? Hopefully we should be in a better position after the changes we made for today and hopefully the race pace will be stronger.
"Kimi will be quick and I can't imagine it is going to be a case of Sebastian pulling away. Kimi is on it this weekend so hopefully it will be a race between the four of us. I will find out when the lights go out."
It is rare for Hamilton to be so off the pace, particularly in qualifying, and particularly to his team-mate in identical machinery.
But Hamilton, a two-time winner in Sochi, has struggled with the handling of his car in a weekend where he has never troubled the top of the order.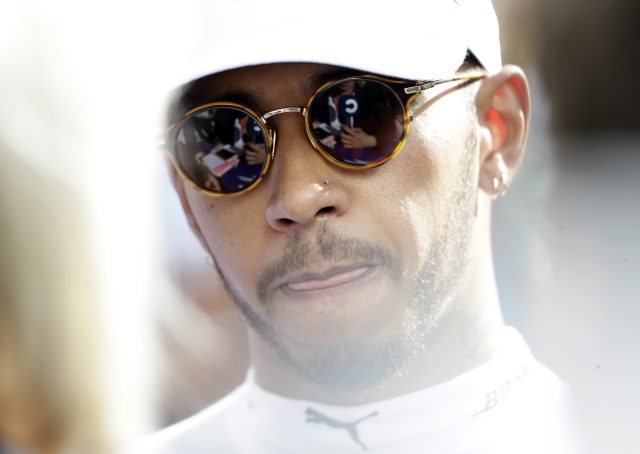 For Vettel, he will now be the overwhelming favourite to claim his third win from four races. A spectacular turn around for his Ferrari team which failed to register a single victory last term.
"The car was phenomenal," Vettel, who celebrated wildly on the team radio after discovering he had landed his 47th career pole, said. "It's a team effort and it's a great result to have both cars on the front row, but it's only part of the job and the main job is obviously tomorrow but for now it's an important step."
Daniel Ricciardo is fifth on the grid ahead of Felipe Massa. Jolyon Palmer will start 16th after he crashed out of qualifying.