Lewis Hamilton has admitted that he is saddened by the demise of his former team McLaren following their torrid start to the new Formula One season.
McLaren have a glittering motor racing heritage in which they have won a combined 20 drivers' and constructors' championships. But they have not toasted a victory since Jenson Button's triumph at the season-ending Brazilian Grand Prix nearly five years ago – a losing streak which, barring a minor miracle, will tick over to 82 races here in Russia on Sunday.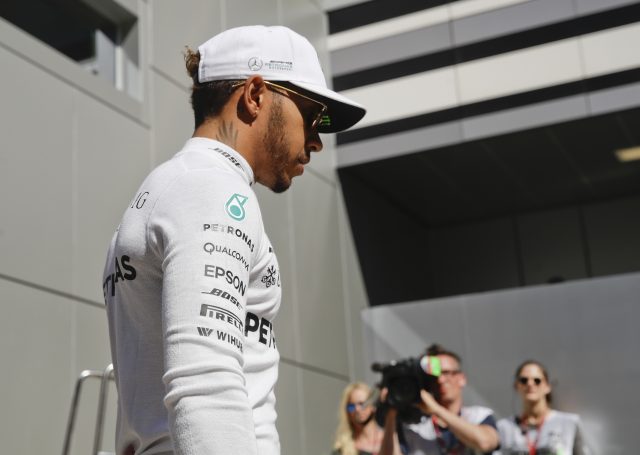 McLaren's relationship with their beleaguered engine supplier Honda only shown signs of deteriorating – indeed Stoffel Vandoorne has been hit by a 15-place grid penalty for already exceeding his allocated number of engine parts for the year – while Fernando Alonso failed to reach the chequered flag at each of the opening three rounds.
Hamilton, 32, began his career at McLaren and won the championship in his second season with the British team after missing out by a single point in his rookie campaign. He spent six seasons there before he moved to Mercedes in 2013.
Ron Dennis, McLaren's long-standing chairman was ousted last year, to be replaced by the untested American Zak Brown, while Martin Whitmarsh was bumped out in favour of Frenchman Eric Boullier three years ago.
"They have a place in my heart because I was with them for so long," Hamilton, who finished a distant fourth in practice for the Russian Grand Prix on Friday, said. "It is definitely sad to see such a great team not be at the top.
"They have had changes in management and all sorts of things, but I think the most important thing for me is that McLaren don't lose the core heart and soul of what the team is all about.
"They are now trying to make the steps and decisions and move the team in the right direction and I really hope they find their way back to fighting at the front because it would be great.
"They have not won a race since I left, but I think they can do as soon as they figure out their engine situation and also their car. Then they can move forward."
Alonso, 35, won the last of his two championships with Renault more than a decade ago. He is out of contract with McLaren at the end of the season, but a lack of vacancies elsewhere in the paddock could leave the Spaniard with little option than to extend his stay.
But even with a resurgent Ferrari back fighting for the championship – indeed Kimi Raikkonen and then Sebastian Vettel topped the two practice sessions here on Friday – Alonso insists he believes he made the right decision to quit the Italian team.
"In 20 years Ferrari will keep winning and hopefully they don't ask if Alonso was right or not to leave Ferrari because I will be 75 years old," Alonso, who will miss next month's Monaco Grand Prix to race in the Indianapolis 500, joked.
"Of course we would like to be more competitive here that's for sure, but I still think I took a good decision to come to McLaren. I have learned many things, worked with one of the best engineers that I have ever worked with, and the quality of life has improved for me despite the results.
"I saw a cover of a magazine today which said I am a wasted talent, but I am super happy with my career. We will see what the future brings but at the moment I am quite happy with what I did and what I am today."