Lewis Hamilton defied the odds to win the Singapore Grand Prix and extend his lead over Sebastian Vettel at the summit of the Formula One championship.
Hamilton now heads Vettel, who retired from Sunday's race following an extraordinary three-way pile-up with Ferrari team-mate Kimi Raikkonen and Red Bull's Max Verstappen, by 28 points.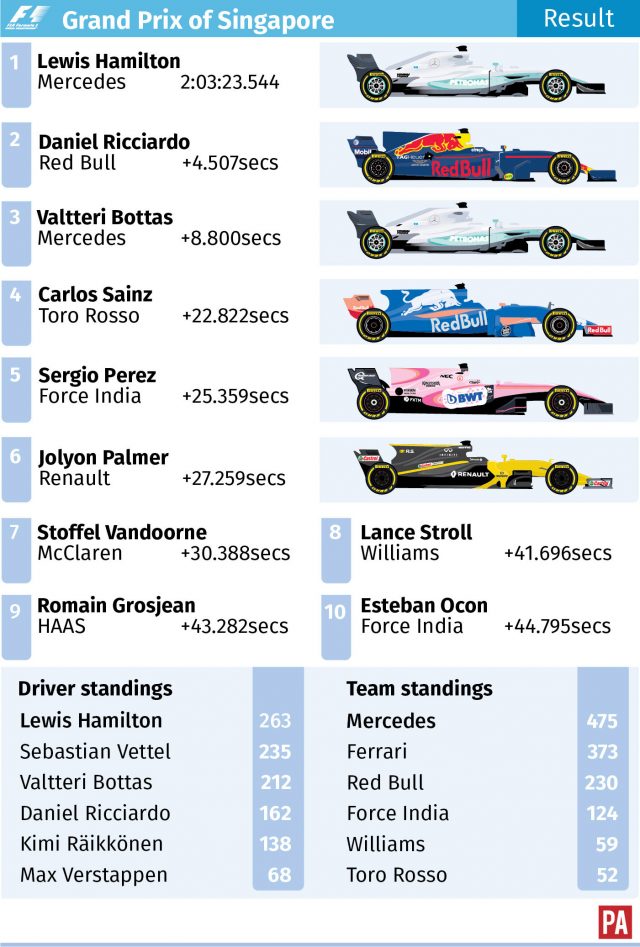 Here, we look back at the best bits from round 14 of the championship.
1. Hamilton marching on to fourth title
Even in his wildest dreams, Hamilton could never have envisaged leaving Singapore with a 28-point lead over Vettel. The weekend in Singapore had been billed as damage limitation for the Briton and his Mercedes team, so for Hamilton to not only win, but witness his rival crash out after just three corners, is a scenario barely believable. Hamilton said he needed a miracle and he got one, but where does this leave the championship fight? With Mercedes' bogey circuit now out of the way, expect the majority of the remaining six rounds to favour Hamilton's team. The slow(ish) Yas Marina circuit in Abu Dhabi could be the only track which suits Ferrari over Mercedes, but by then, it may be too late. Indeed who would now bet against Hamilton wrapping up the championship with a round to spare at the Brazilian Grand Prix in early November?
2. Was Seb at fault?
Vettel celebrated his pole here as though it was a victory, and who could blame him? Seven of the nine races, prior to yesterday's grand prix, had been won from the front slot on the grid. Vettel would have expected to regain the lead of the title race from Hamilton, but the arrival of rain – ensuring the sport's first wet night race – just moments before the start threw a wave of uncertainty into the air. Vettel moved to cover Raikkonen and Verstappen off the start-line, but were his actions too aggressive? The stewards decreed a racing incident and took no further action, but some in the paddock felt Vettel was to blame. "That was a very bad move by Seb," Damon Hill, the 1996 world champion and Sky F1 pundit, said. Meanwhile, Jos Verstappen, the Red Bull driver's father, made his view clear on social media. He published a screengrab of the incident, accompanied with an arrow indicating that Vettel had deliberately veered into the path of Raikkonen and Verstappen. "I have nothing more to say," he wrote.
3. Alonso rues another missed opportunity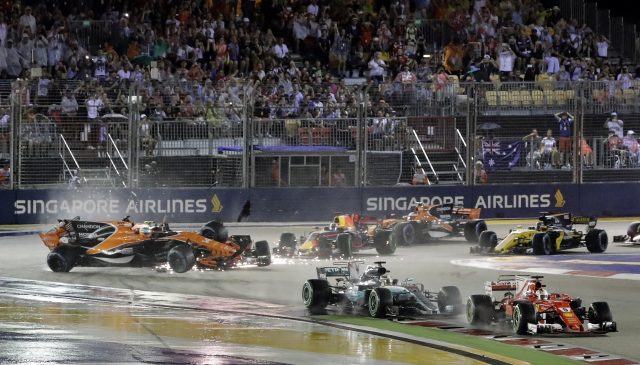 Fernando Alonso believes he was denied a shot at the most unlikely of victories after he was caught up in the Vettel-Raikkonen-Verstappen pile-up. Alonso started eighth, but was third by turn one only to be collected by both Raikkonen and Verstappen. Alonso limped on for several laps but he was forced to retire following damage sustained to his McLaren in the crash. Had Alonso avoided the accident he would have been second following Vettel's retirement, and with track position imperative in Singapore, he might have had a chance to fight for McLaren's first podium finish in more than three years.
4. Palmer finally comes good
Jolyon Palmer hailed the best day of his F1 journey after he finished a career-high sixth in Singapore. Palmer's strong display in the tricky conditions, which included a pass on Hamilton's Mercedes team-mate Valtteri Bottas, came only days after he was informed that he is being dropped by Renault for next year. Palmer is hopeful he could land a seat at Williams with the British team yet to announce who will partner Canadian teenager Lance Stroll in 2018. "It was my most enjoyable day in Formula One," said Palmer, 26. "Passing Bottas at the restart – passing a Mercedes legitimately – was great. It's been a tough year, but we finally had a clean day. I could show what I can do."
5. Bubbles leave Bottas speechless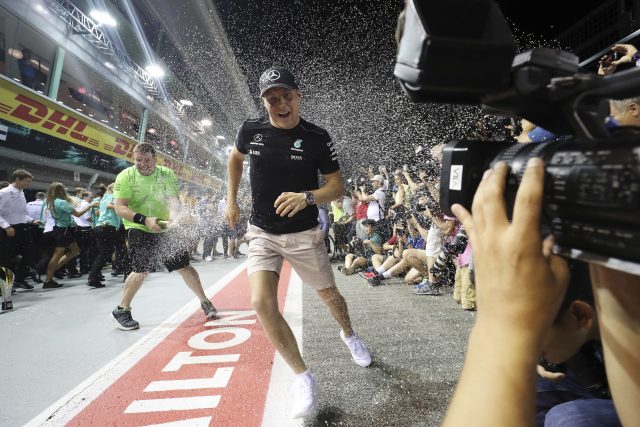 Daniel Ricciardo provoked much hilarity in the top-three post-race press conference when he was accused of emitting wind. A red-faced Bottas was barely able to get his words out in his native Finnish, saying: "I am trying to keep it together now that this mate next to me has just farted." Hamilton later added: "For those of you watching – we're all a bit gassy up here. That's why we are in tears."