David Haye remains on course to return to the ring later this year and expects his opponent to be confirmed in the coming fortnight.
The heavyweight is again in the gym as he continues his recovery from the Achilles injury that undermined him during his defeat by Tony Bellew in March.
Press Association Sport understands he remains in negotiations for a rematch with Bellew in December and that plans for that fight have progressed to the point potential undercard fights are being prepared.
Before then Haye will also promote the professional debut of Olympic silver medallist and heavyweight Joe Joyce against Ian Lewison at London's Indigo at The 02 on October 20. However, it is a return to the ring, and then a challenge of Anthony Joshua, that occupies his mind.
"The plan is (to return) before the end of the year," the 36-year-old said. "That's what I've said since I had my operation. That's what I believe will happen.
"It's better now than the doctors anticipated. I'm running, bounding, hopping and punching. There are a few names bouncing around but I'll know probably in the next couple of weeks and then everybody else will know too.
"(A rematch with Bellew) might happen but only if we can get on the same page. We have always been on different pages. I won't be holding my breath for that one. If it's supposed to happen it will happen but at the moment I wouldn't put money on it.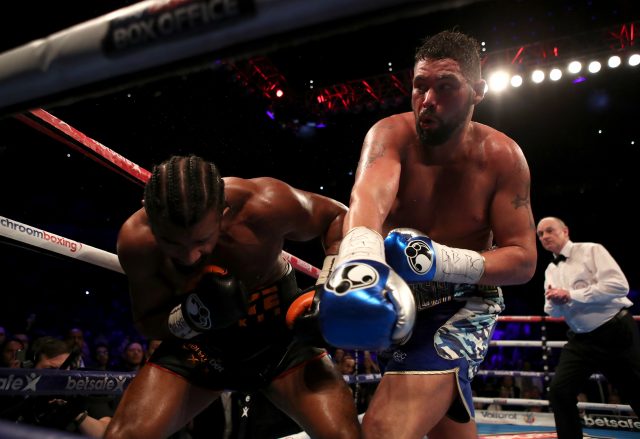 "There were many fighters over the years who wanted revenge but didn't get it. I wanted to avenge the loss against Carl Thompson and that never materialised, the same thing with Wladimir Klitschko. If it happens, it happens."
While describing the 31-year-old Joyce as the future of the heavyweight division, Haye reiterated his intention to soon retire.
He wants "the biggest fight ever on UK soil" against IBF and WBA champion Joshua after rebuilding his reputation following the defeat by Bellew before that happens, and all within the space of what he believes will be his final four fights.
"If I can have two fights back and work my way up the rankings, then it will be up to Joshua to give the fans one of the biggest fights ever in the UK," said the former WBA champion. "Four fights, maximum. I believe I can work my way up the rankings and get the right fight with the right guys. Number one in my eyes is Anthony Joshua.
"Joshua has some business to take care of with (Kubrat) Pulev (in Cardiff on October 28) but then next year, in an ideal world, I'll fight Anthony Joshua.
"At the moment, I'm not on his radar because I lost my last fight. He's worried about his mandatory challenger, not me, understandably. He knows he is my target; he's everybody's target because he is considered number one.